I've just returned from a trip visiting family in England and Wales and as it's been a few years since I've been to my homeland I noticed a lot of differences.
Public transport is easy to use in London, but as there are multiple rail services now it's wise to check on travel before you leave.
The Train Line Website
is a good place to start. For destinations outside London look for lower fares such as day return,
off peak
tickets. If you're travelling around London an
Oyster Card
will come in handy. Purchase an Oyster visitor card before you leave and you will get extra bonuses that don't come with a resident Oyster Card. These are easy to use, you swipe the card when you get to the station and again when you arrive at your destination. The balance on the card shows up on the screen. You can top these up at automatic machines at the train stations. These can also be used on buses and the underground in the London area.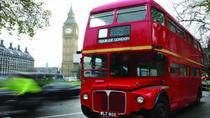 A good way to get an overview of London is to take a Thames River cruise. Some are lunch or dinner cruises such as the
Bateaux London
. If you're walking, stop at a souvenir stall and purchase a map, (or download one
here
) you'll find a lot of the sights are close together and within walking distance. If you're tired or it's raining, underground stations or bus stops are easy to spot. Another good way to see the city is with the Hop on Hop Off buses. The pass is usually good for the day and you can get off when you see something you'd like to look at and then get on the next bus. There are several different tours called "Hop on Hop Off."
The Original Tour
price includes a river cruise, but check on the different companies and see which one suits you best (
Big Bus has a downloadable map
).
A lot of the attractions and
museums are free
- view Visit London
here
.
Make sure you have the pin number for your credit card. While many stores and also train ticket booths will take it without a pin, many restaurants and other places require you to insert the pin number when paying. If you have the option, request the transaction in pounds. It's cheaper for the credit card company to convert it into dollars.
Beware of pick pockets. Make sure you have your bag tucked safely under your arm or in front of you while you take pictures. Often someone will bump into you to distract you while another person takes your wallet. Also, don't put a bag between your feet when sitting in a restaurant. Crooks have been known to use the hook of an umbrella to pull the bag out without you noticing.
Weather is changeable, but I did find that May was a lovely time to visit. The weather was good (around 60 degrees) and not too much rain. Also, the spring flowers and rhododendrons were beautiful. But check what attractions you want to see as some of the older houses and castles close in the winter (too expensive to heat) and might not open again until the summer. (
Highclere Castle
is closed until the end of May) By the way, Europe uses Celsius not Fahrenheit, but a quick way to roughly calculate is to double the number and add 30 i.e 10 Celsius would be 10x2+30=50.
Note: I found a blog
Mind the Gap
which might be interesting to anyone visiting England.