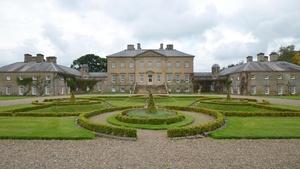 Dumfries House
is an 18th century house located
south of Glasgow
in Scotland and holds an unrivaled collection of
Chippendale furniture
. But at one time the house was up for sale with its contents on its way to London for auction. That was until Prince Charles stepped in on behalf of one of
his charities
,
The Prince's Trust
. He said the trucks were stopped at 1:00 a.m. while on their way to London. Using one of his titles as
Duke of Rothesay
(a Scottish title) he officially opened different stages of the renovation and
shared his vision
. The Queen presided over the opening of the complex (see You Tube video below). Dumfries house is now open to the public showing how it would have looked in the 18th century when Lord Dumfries owned the house. But the Prince was not only trying to restore the house to its former glory but to provide employment and work skills to the local towns where unemployment was the highest in Great Britain. There is a cooking school, an artist retreat, and dying arts such as masonry, roof thatching and construction using
wattle and daub
are taught. The
walled garden
that is one of the biggest in Scotland, is being renovated and local school children and groups come to learn horticulture. The Prince noted that many children have no idea where vegetables come from and how they are grown.
Dumfries House was shown as part of the
Great Estates of Scotland
series on
PBS