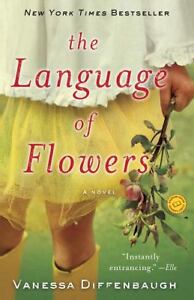 The Language of Flowers has always intrigued me, so when I saw this book, I snapped it up. I wasn't sure what I was expecting, but this was a book I couldn't put down. Vanessa Diffenbaugh is well acquainted with foster care and children transitioning into adult hood from her work through Camellia Network of which she is the founder. In Language of Flowers she takes us on a journey through the eyes of a child emancipated from the system and her fascination with flowers and their meanings,
This would be a good book review, there's lots of subject matter for discussion. Discussion questions can be found here.
From the cover:
After a childhood spent in the foster-care system, Victoria Jones's only connection to the world is through flowers and their meanings. Now eighteen and emancipated from the system, Victoria has nowhere to go and sleeps in a public park, where she plants a small garden of her own. A local florist discovers her talents, and Victoria realizes she has a gift for helping others through the flowers she chooses for them. But when she's forced to confront a painful secret from her past, she must decide whether it's worth risking everything for second chance at happiness.